Story by Dan Goldsmith
My story is another one of those lost and found type stories.  The original owner, Theresa
F. Rotello, bought the car from Fran Kral Lincoln-Mercury in Rockford Illinois.  I spent a few hours
rummaging through their attic on a visit once and came up with a brand new chrome dealer
emblem just like the one on the car, minus the pits.  I tried to track Theresa down at the county
hall of records but lost her trail just one year before I started looking.  That was around 1992 I
believe.
My father bought the car in 1979 from a college student who needed tuition money.  I
believe she was the third owner of the car.  I have enclosed a picture of my brother and I in front
of the car in 1982.  He was five and I was fifteen.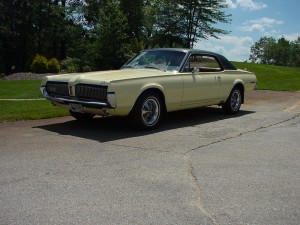 The thing that may be interesting to readers is that my car was built very late in
production.  It is a 1967 XR-7.  The VIN is 7F93C651367, which is higher than the number of
Cougars supposedly produced, which I never understood.  The actual build date was 8/10/67,
one day ahead of schedule.  I have been told that its build date was very close to the end of
production.  The last time I checked, it was the highest '67 VIN on file with the CCOA.
It has some weird things.  The paint code has two digits (W8), which I believe is the result of paint
mixing and confused line workers during those changeover days.  If I follow the paint code chart
literally, the car should be Trafalgar Blue on the bottom and Jamaican Yellow on the top.  Not a
color choice I can envision anyone (even in the 60's) ordering.  I have seen no signs of blue
anywhere on the car.  It has a black vinyl top (original) but even though the Marti report says my
car should have an "8", the "W8" it actually has, makes sense because "W" was the code for
yellow in '68.  It also did not have the 7 emblems on each side of the rocker panels.  There was
no rust found in that area during restoration, which is commonplace I understand, and the body
shop said there were no holes at all on one side and the holes on the other side had been
"leaded up".  I don't know if it means anything.  My thought is that maybe they just ran out of
emblems.
My father has worked in a car plant for 36 years (albeit a brand X car plant) and has
seen all manner of substitutions on the fly, especially at changeover time.  They were not above
running to the ACE hardware if they ran out of bolts or something.
I bought the car in 1985 from my father.  I am also a '67 model, so the Cougar and I were
18 at the time.  My best friend and I flew from New Hampshire to Wisconsin to get it.  We were
seniors in high school, and making a 1000 mile trip in a classic car was quite an adventure.  We
made it and everyone at school thought it was really cool.  I couldn't believe it was mine.  The first
thing we had to do before we left on the trip was to take out the Realistic 8-Track player and
replace it with a "state of the art" Alpine cassette deck.
I had ten happy years with my Cat until my financial situation took a turn for the worse
and my wife talked me into selling the car.  I sold it to a young guy in a nearby town who was
really into Fords (Mustangs especially) but he thought the Cougar was neat and vowed to take
good care of it.  He even put the original style single exhaust back on it.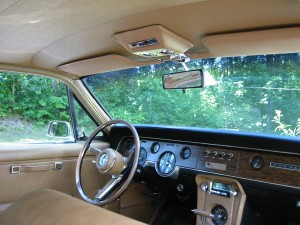 I found out he was selling it the next year from a guy at work whose wife worked with the guy I sold it to. I talked my
friend Richard Clark (CT Cougar Club) into buying it.  I had met Rich when I hosted the first ever,
eastern nationals in 1991.  There had been only one national show each year for the CCOA
before that year.  He had two other Cougars in his collection (a '69 XR-7 convertible and a '73
XR-7) and he had always wanted an early example.  He kept it for the next four years as I went
through a divorce (not solely related to the selling of the Cougar).  He decided that I loved the car
more than he did and when I got back on my feet in 2000, he sold it back to me.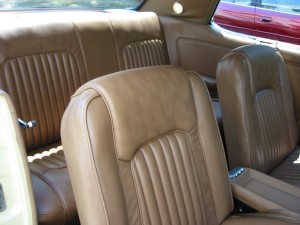 I then set about restoring the body since it still had the rust which started in Illinois during it's early days.
It spent almost 18 months in the body shop being worked on between regular collision
work.  It had one new floor pan put in and the rust on the quarters, doors, fenders and under the
vinyl top, just above the trunk lid, cut out and replaced with new metal.  The body shop lit my
headliner on fire while welding in the trunk area, so I got a new one, even though the old one was
in great shape.  They did a great job, though, and after they shot it with a new coat of Jamaican
Yellow and I reinstalled the interior it looked like a million bucks.  Never again (at least not for a
long time) will I have to worry about the scourge of rust attacking my baby.
Since then I have been doing little projects on the interior and under the hood as time and
money permit.  I know I will never finish the car, because I do drive it on the street and I find my
self doing jobs that I already did ten or fifteen years ago.  I like to consider it a rolling restoration.
I could have bought a big block convertible from California with all the options for what I have into
my Cougar now, but I am glad to have it back and I think I made the right decision.  My new wife
loves the car and she is a big reason why I got the car back.  She and I used to ride around in it
back in high school when we were just friends.  I'll never sell it again and hopefully we'll have
many enjoyable years with the Cougar, as we grow old together.